Hunters of the Lost Creatures
Strange creatures are lost! Collect them & build the greatest wildlife park.
Join the quick eternal 15min conflict full of cards, fun & puns.
#lostcreatures #wonderbow @wonderbowgames
Funded on Kickstarter in under 7 hours 🥳
Download Materials
Please click on the language you want to download the complete marketing materials shown below:
2-5 Players, 15 Min to play
Hunters of the Lost Creatures is a fast-paced card game that players can win against their buddies or lose against their 5 year old kid. But winning or losing only depends on their decisions – not on dice or luck of the draw. It is an ultimate battle between strategy and haphazardness. Players need to keep an eye on the interests of their competitors and beware of Trolls, Thieves and Turnados, as they can mess with their strategy but also be used in favor to win.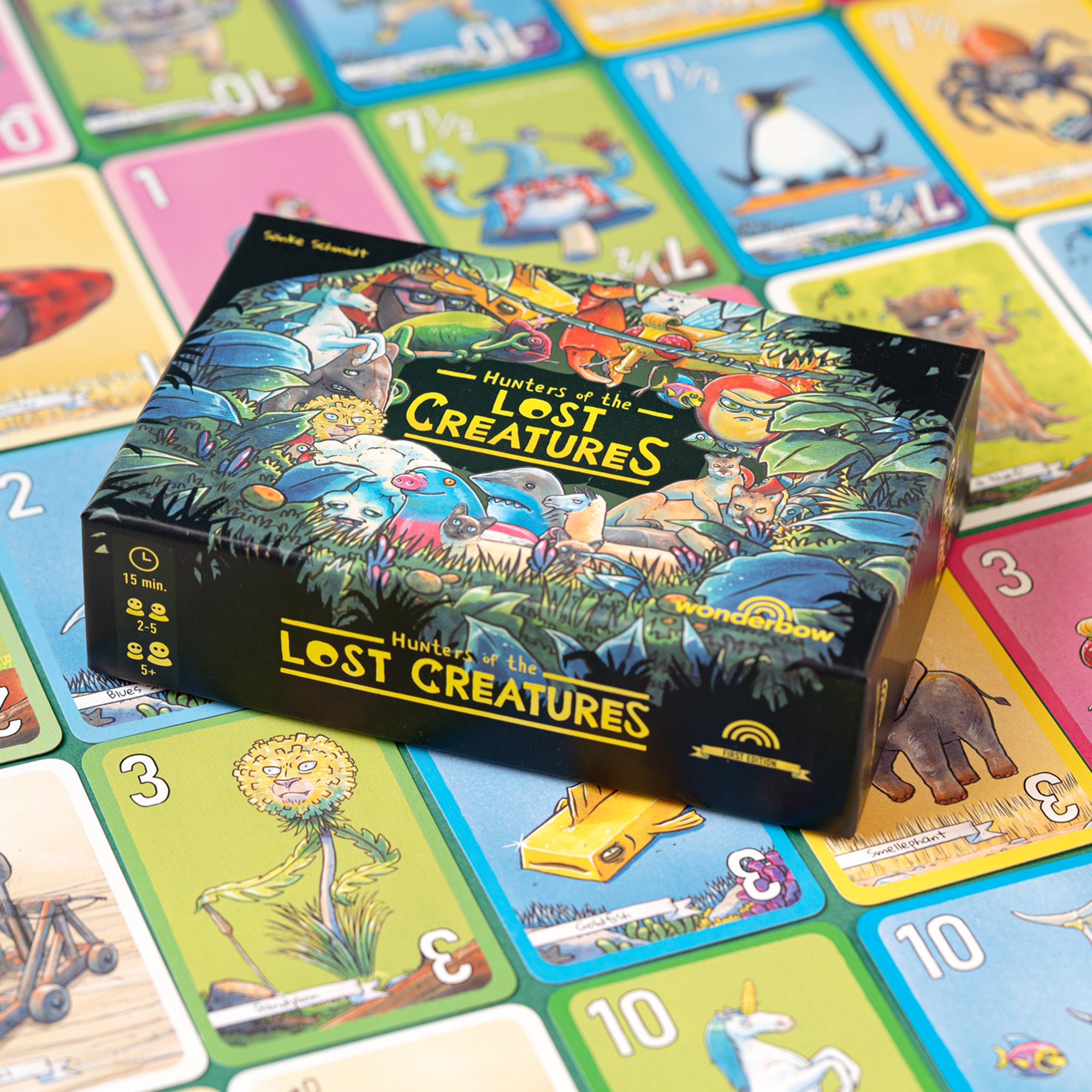 How to sell
Lost Creatures is fun, full of puns and can be played simultaneously. It is an easy to learn and language independent set collection game. It is not luck based, but adults can and will lose against very young kids too. The core mechanic is simple: Everybody secretly chooses a hunter and reveals simultaneously. If you are the only hunter in the area, you get the creature. If there is more than one hunter, they are too loud and the creature is scared away. With special cards you can add some Take That, but not too much.
Hunters of the Lost Creatures is set in the unique world of the weird Lost Creatures. All of them are illustrated by Sam Moore.
A great filler or starter game with friends and very fun with the family, even with very young kids. Laughs are guaranteed.
REVIEWS
Here you find a selection of reviews. To watch more, please click on the link below.
Sizzle Reel / Silent Trailer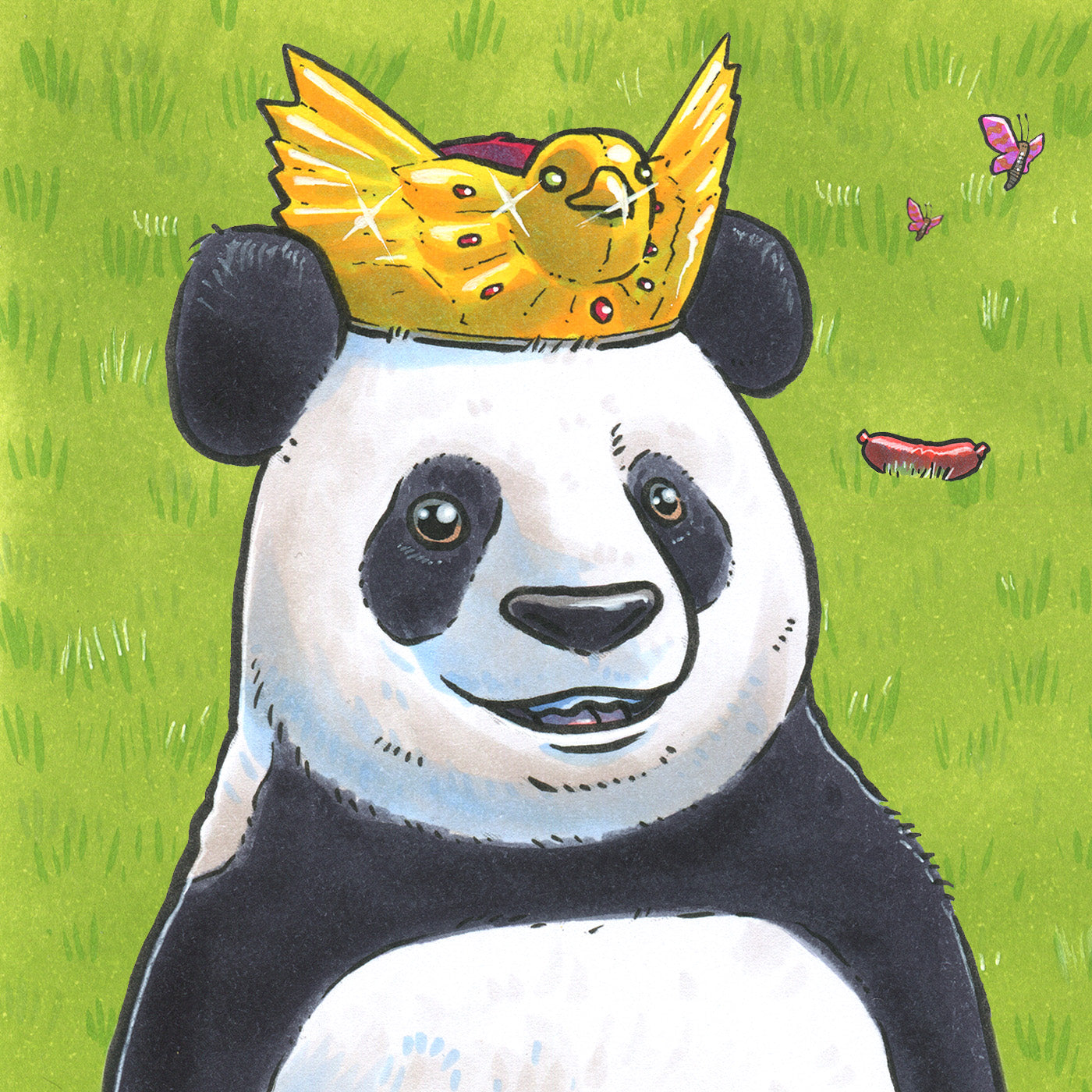 USP
The Creatures
All creatures are weird and funny puns. Players can populate their wildlife park with the rare Monopus, a Swordfish or even a Duocorn.
Finding an illustrator with a great style paired with a very special kind of humor was the final missing piece. The fantastic Sam Moore a.k.a. ugly_ink is a one-of-a-kind Copic artist from New Zealand. He made all the illustrations on paper and colored them meticulously by hand.
There are more than 20 creatures to discover and 20 custom hunters. Some creatures are extremely rare. See some examples below: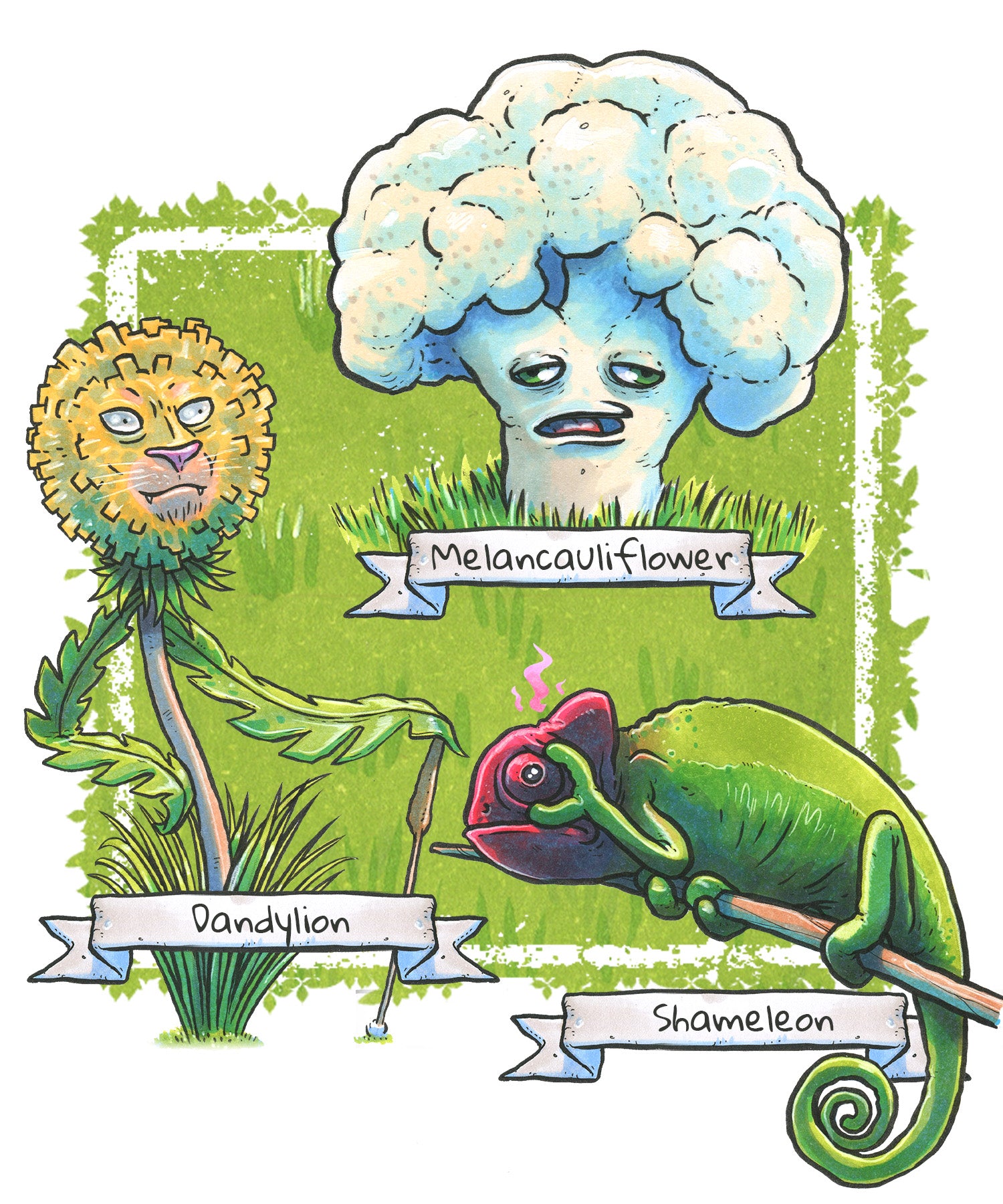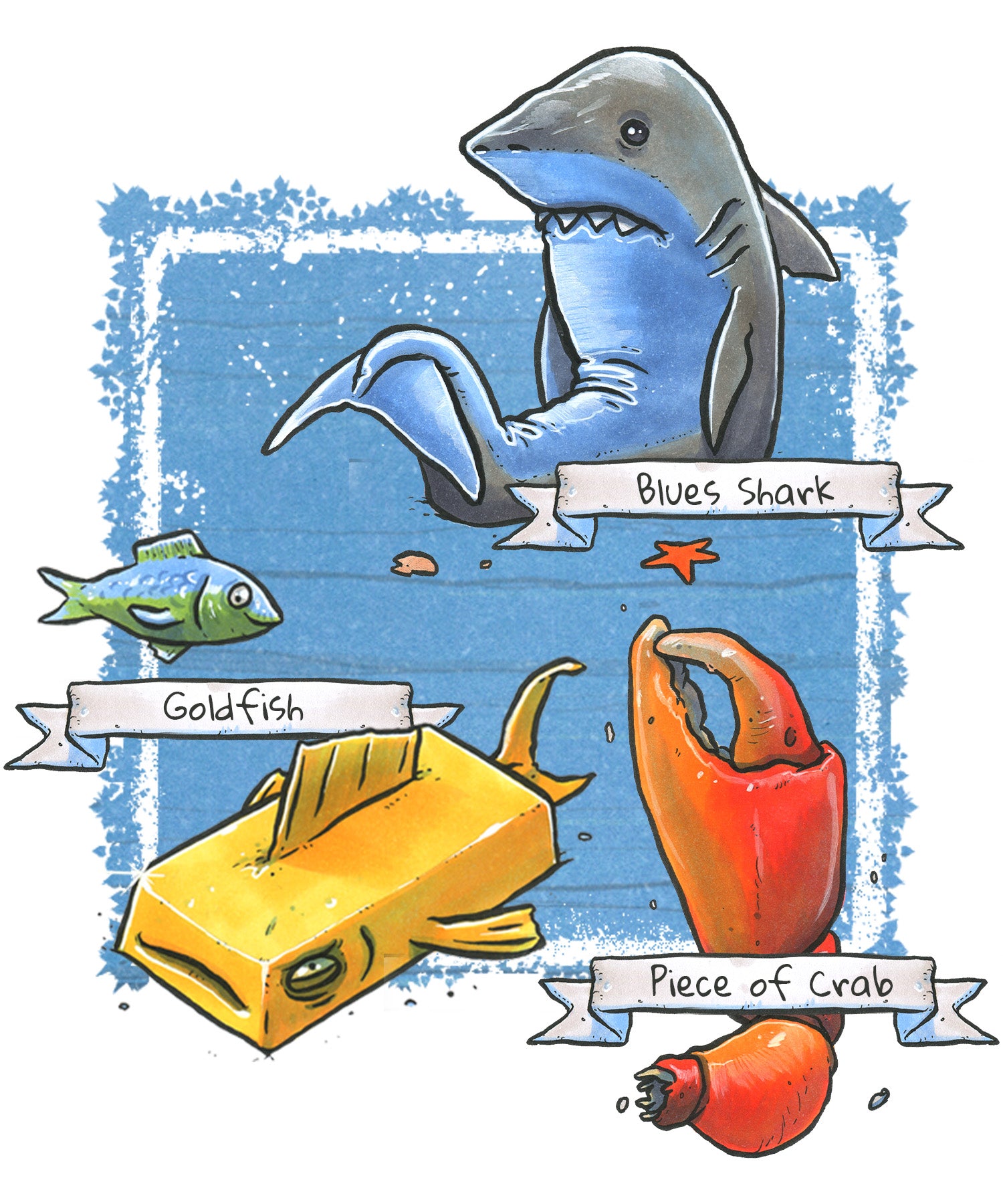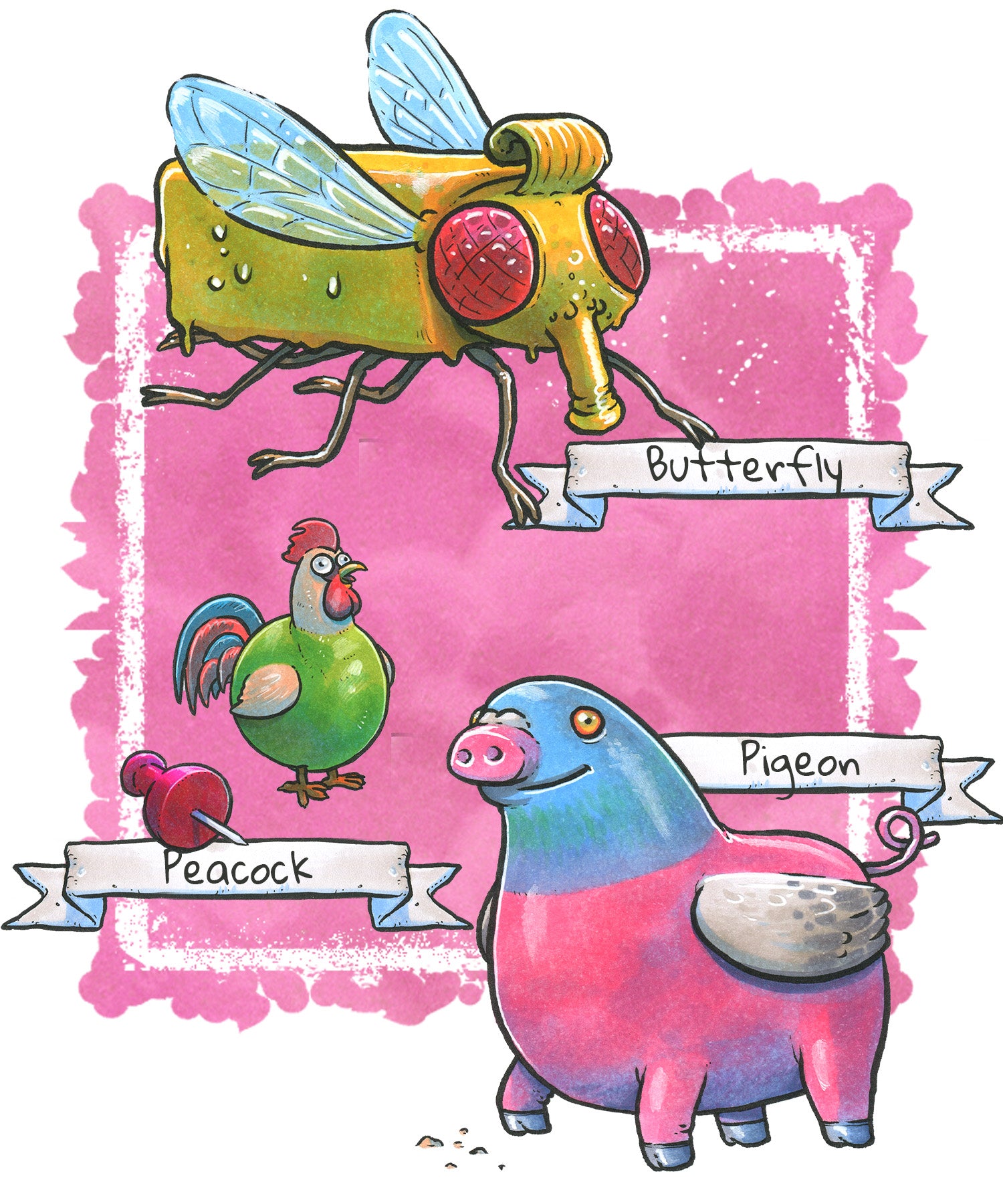 THE GAME RULES
A rules-pdf is included in the download section here.
Info & Credits
Game Design: Sönke Schmidt
Illustrations: Sam Moore
Graphic Design: Sönke Schmidt
Editor: Laia Gonzalez
Publisher: Wonderbow Games
Year released: 2023
Mechanisms: Set collection, simultaneous play with a little (and optional) take that element